From Teacher to Seed Leader
Shannon Straka 
STB Master's Student
Livingston, WI
Biddick, Inc.
From growing up detasseling, then teaching middle/high school science, to returning to the world of agriculture as Database Administrator and Quality Manager at Biddick, Inc., Shannon Straka took an unconventional route back to an industry he loves. We really enjoyed learning more about Shannon's journey and why the STB program works for him!
Tell us your story, what made you interested in working in agriculture and the seed industry?
As a middle school student way back in 1989, I started detasseling at a local seed corn company.  My goal was to make at least $50 so I could buy a new Nintendo game system.  The job ended up being a lot of fun as I met several other people who became lifelong friends, so I kept coming back for about 10 years.  Even though my father had worked at the company since I was born, the thought never crossed my mind that there were "careers in the seed industry."
Therefore, upon graduation from high school, I obtained a degree in Microbiology and ended up teaching middle school and high school science for 10 years.  I really enjoyed working with all my students and seeing their growth in skills and knowledge.  However, having some time available in summers led me back to scouting fields and working at the same seed company again.  Out of the blue, they offered me a full-time position, which I ended up finally accepting.  This mid-career change occurred seven years ago for me.
Why did you decide to apply to the STB program? 
After my first couple of years working in this new career path, I realized I needed a more robust background in all the areas that go into producing high-quality seed.  Then, as luck would have it, I ran into the ISU STB Program booth at the ASTA trade show in Chicago around the same time as I was contemplating furthering my education in both seed production and business.  I had often heard about Iowa State's stellar reputation in agriculture research and education, and quite a few individuals from our region in Wisconsin had great things to say about attending school there.  Since I could also attend online, the fit was as perfect as could be.
Tell us how online learning worked for you. 
At first, I was a little worried about online learning, as it was new to me.  Now, I feel it has become almost second nature.  I enjoy the fact that I can spread out my work over nights that I have free and sometimes on weekends, as well.  Besides being able to work at my own pace, the other great benefit is communicating with other STB students and instructors via discussion boards.  There are many times I have learned from fellow students about growing and processing other seed crops such as sugar beets, tomatoes, and alfalfa.  In addition, I have learned from students in other regions of the U.S., and students from even farther away, such as learning about seed production in Costa Rica and Africa.
How has the program helped you professionally?
I realized I was going to gain a lot from the STB program early in my first full semester.  Once the seed conditioning and seed physiology courses started, it was easy to witness the unfolding relevance to my job helping produce, process, and store high-quality corn, soybean, and small grain seeds.  For example, as I was learning details about harvesting, drying, shelling, and conditioning seed corn, we were actually performing all those functions here within our seed company.  In the few semesters since courses from seed production and improvement to seed health management and statistics have helped me better understand what goes into the myriad of decisions that must be made on both a seasonal and daily basis.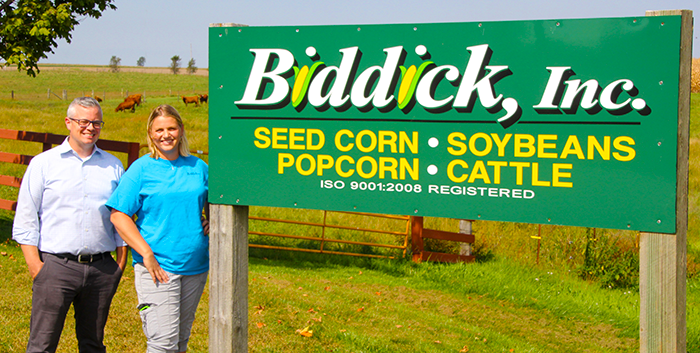 What advice do you have for someone who is considering applying to the program?
My advice would be that the STB program is definitely doable and rewarding.  All it will take is some time management and ability to do some work spread throughout each week.  Don't wait until deadlines to get things started.  Finally, there are many great resources and lots of valuable information available via the STB program, so use them all to your advantage for your courses and career.
Now what? Once you complete the program what is your next step? 
Honestly, my hope for getting the MS degree in Seed Technology and Business is just for my own self-improvement, satisfaction, and enjoyment.  I have always appreciated learning and interacting with other learners.  However, a great benefit of this program is that I wanted to feel more comfortable understanding how and why decisions are made in a seed company.  I am glad that each semester the foundations of a strong, quality, and sustainable seed business become clearer and clearer to me.
Shannon, along with his coworker Kristi, joins us from an independent seed company, Biddick, Inc., located in Livingston, Wisconsin. The Graduate Program in Seed Technology and Business has something for everyone, no matter what area of the seed industry you may find yourself.
Become a

#seedleader

today!