November 2018
The Seed Technology and Business (STB) Graduate Program at Iowa State University (ISU) successfully completed their second annual Seed Science & Technology short course November 5-9, 2018. The weeklong short course, a companion course to the Seed Business Management short course offered again this coming February 4-8, 2019, was attended by seed industry professionals from across the United States, Canada, and South America.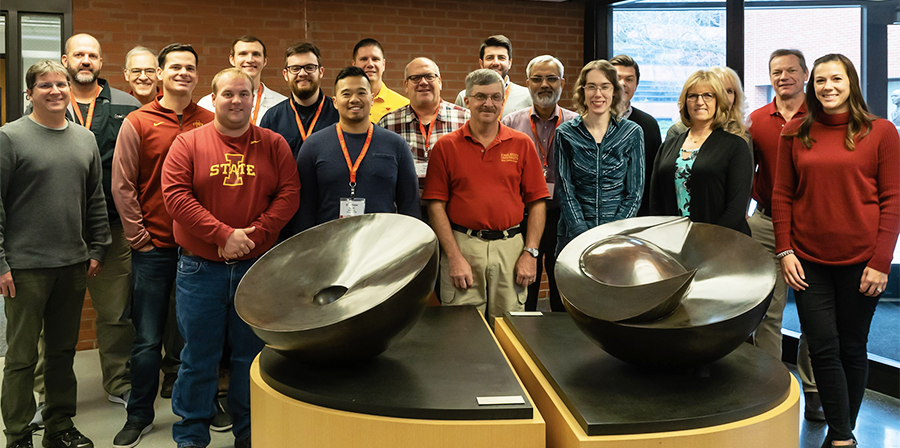 Participants of the Seed Science & Technology short course held Nov. 5-9, 2018, in Ames included: Mark Slovacek, Ag Alumni Seed; Casey Perkins, Ag Alumni Seed; Alan Gaul, STB short course instructor; Chad Kimmelshue, Iowa State; Karl Nicolaus, Iowa State; Tanner Odom, Genective USA Corps; Fernando Mauri Marcos, Iowa State; Matthew Trinh, Bayer, Shane Svoboda, BASF; Todd Rice, Ag Alumni Seed; Mike Stahr,STB short course instructor; Emilio Do Carmo, Syngenta; Hamid Naeem, Agriculture and Agri-Food Canada; Laura Wood, Corteva; Rodrigo Pedrozo, Iowa State; Connie Ripberger, Corteva; Cindy Robertson, STB short course coordinator; Gary Munkvold, STB short course director; Lori Youngberg, STB graduate program coordinator.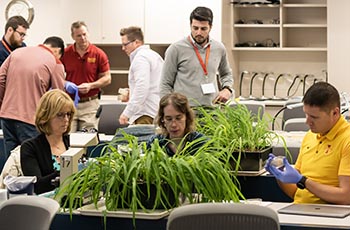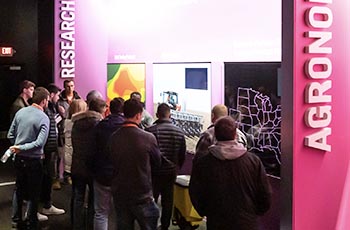 The Seed Science & Technology short course benefits both new and veteran seed industry leaders by providing a one-of-a-kind learning experience focusing on the seed product lifecycle and current industry technologies. This comprehensive course, led by Seed Science Center faculty and seed industry experts, provides hands-on demonstrations, industry tours, and discussion sessions to help provide a clear picture of the many facets of the seed industry, including an in-depth look into Seed Production, Crop Improvement, Post Harvest Management, Seed Health and Quality testing, and Seed Physiology.
"If you are seeking a further understanding of the seed industry and how the various modules relate to and interact with one another, this is the course for you!"  –  Tanner Odom, Genective USA Corp.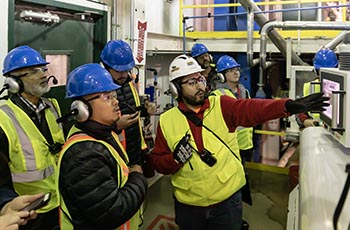 The November 2018 session included tours of the Dupont Integrated Seed Science Center, Ankeny, IA; North Central Regional Plant Introduction Station, Ames, IA; Huxley Learning Center, Huxley, IA; and the Bayer seed production facility, Boone, IA. Invited guest speakers, David Beck, independent plant breeding consultant and former corn breeding project lead for Syngenta and CIMMYT, gave a comprehensive presentation regarding the Pigeon pea: from breed to seed; and Dr. Jeanne Serb and David Wright shared a brief look into the biotechnology services available at Iowa State University.
Short course participants felt the session topics were broad and understandable, and provided critical information to anyone involved in the seed industry.
"Great connection between academic concepts to how these concepts are used in industry," said Chad Kimmelshue, ISU graduate research assistant in Agronomy.
The STB short courses are offered through the Graduate Program in Seed Technology and Business and are hosted at the Seed Science Center located on the ISU campus. The center houses the most comprehensive public seed testing laboratory in the world and is recognized globally as a leader in seed research, testing and education.
For more information, or to register for future Seed Science & Technology or Seed Business Management short courses, visit: www.seedgrad.iastate.edu/stbshortcourse or contact us at stbshortcourse@iastate.edu, ph. 515-294-6947.  Seating is limited.