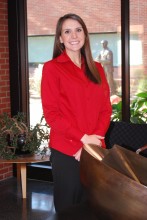 Alunmi Profile- Whitney Wolfe
Bloomington, IL
Supply Chain Coordinator at DuPont Pioneer
What is your current position, title, company?
I am Supply Chain Coordinator for DuPont Pioneer's Heartland Business Unit.  In my role, I assist in communicating and implementing supply chain initiatives to ensure that our growers have the best products for their acre.
Do you think this program helped you move forward professionally?
I feel that I now have credibility and academic experience that will support me tremendously throughout my career in the agriculture industry.  This program has helped me better understand and expand my knowledge on the many functions within an agriculture business.  After digging deeper into the coursework, I gained a comprehensive understanding of seed technology research and development to commercialization. The program has also helped me build connections with others in the industry by networking with fellow students.
What advice do you have for students considering applying for this program?
Just do it!  My experience has been phenomenal.  At first I was unsure if I wanted to pursue my graduate degree.  However, this program was very attractive because it is online and fits well with my career goals. After completing the program, I cannot say enough positive things about my experience.
To students who just started the program, be sure to take advantage of building professional relationships with other classmates that are in the industry.
How did "online" work for you?
I loved it.  It was flexible and I could work at my own pace as my schedule allowed.  Many of the agriculture professors understand the seasonality of the industry, and were willing to accommodate workloads accordingly.  While it was online, there was still ample opportunity to interact with classmates through discussion boards, group projects and even communicate via social media.
What was your biggest challenge while completing this program?
At first, it was somewhat challenging to balance my course work, personal life and career.  However, after gaining a better feel for the program and expectations from instructors, it became easier to balance my workload.  As a result, I have become skilled at time management.
Now what? Tell us how you are moving forward professionally now that you graduated!
I would like to continue to enhance my knowledge on the challenges and opportunities in agriculture and biotechnology.  While I do not know what the future may hold, I look forward to tackling whatever comes my way. I feel that this program has equipped me with the tools and experience to do so. It has helped me become a stronger leader with an enhanced understanding of the business and industry.  I also feel as though doors have been opened to more opportunities and career paths within the industry.  I enjoy working in agriculture and look forward being a part of the agricultural community for many years to come.  I encourage others who consider pursuing their graduate degree to look in to Iowa State's Seed Technology and Business program.