The Spring and summer 2023 semesters brought a few special celebrations for the Online Graduate Program in Seed Technology and Business. Sharing a little about each graduate from the program demonstrates how special these #seedleaders are.
Mariah Mitchell, Research Associate II at Syngenta
Slater, Iowa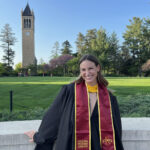 Although the STB program in an online program, we often saw Mariah Mitchell in person, given she was also on the volleyball team for Iowa State. In April 2023 Mariah successfully defended her creative component, Automated sorting of haploids in maize, in person. She now works as a research associate in corn line purity at Syngenta. We will miss seeing her around campus but are excited to see her off on her next adventure.
"I will always speak highly of the STB program and all that it had offered me. Every person that I had come across during my time in the program cared and contributed highly to my success. I enjoyed learning from fellow colleagues about their careers and impacts. As move forward on my path in the agricultural industry, I will undoubtedly continue to use the knowledge and resources the STB program has given me. Thank you!"
-Mariah Mitchell, STB spring graduate
Lauren Sexton, Researcher at University of Minnesota
Twin Cities, Minnesota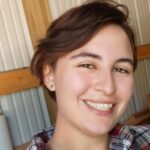 Lauren Sexton successfully defended her final creative component Examination of the potential hybrid diploid potato breeding in relation to commercial potato production in April of 2023. She has since taken a new job with the University of Minnesota as a researcher in the potato breeding lab. Congratulations, Lauren!
Valeria Silva, Seed Lab Technologist II at HM Clause
Turlock, California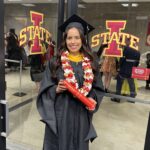 Finally, a huge congratulations goes out to Valeria Silva! Valeria remotely defended her project Biostimulant seed treatment effects on seedling germination of hybrid tomato in greenhouse testing in July of 2023. Knowing she would be graduating in the summer, Valeria travelled from California to walk in the Iowa State graduate ceremony in May.
"I was surprised how quickly my time in the STB program came to a close. I was exposed to many thought-provoking models and views in both the business and technical aspects. I will carry the concepts learned from the professors at ISU and my fellow graduate classmates as I embark on the next step of my seed journey. Thank you."
-Valeria Silva, STB summer graduate
Become a

#seedleader

today!