Seed Science and Technology
Graduate Certificate Program
The objective of this Seed Science and Technology Graduate Certificate is to provide a graduate-level study in the science and technology used in the seed industry. This certificate is oriented toward individuals with a business background who want to understand the technical side of their industry in more depth so they can better apply their knowledge, skills, and experience. Seed science, in this case, includes not only the science associated with seed production and use; but also plant breeding and plant biotechnology. The course in Quality, Production and Research Management will address special aspects of operational management of the technical side of the business.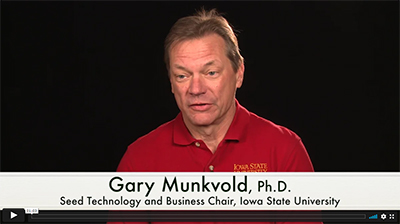 The Seed Science and Technology Certificate content represents approximately half of the content of the Master of Science Seed Technology and Business program or 19 credits. The certificate may be either the final objective of the student or an intermediate stop on his/her way to a master's degree.
Seed Science and Technology Graduate Certificate Courses
Admissions Procedures
Similar to our master of science candidates, we will require certificate candidates to fill out an application for admission and submit a resume and essay answers. See our Admissions page for more information.
For information about tuition and fees for this certificate see our Tuition and Fees page.